ICEDS 2023
2023 4rd International Conference on Education Development and Studies (ICEDS 2023)
Online | March 17-19, 2023
The conference proceedings of ICEDS 2023 has been included into ACM Digital Library.
The conference proceedings of ICEDS 2023 has been indexed by Ei Compendex and Scopus.
The 2023 4th International Conference on Education Development and Studies (ICEDS 2023) held online during March 17-19, 2023. The conference is prepared for full on-site presence in Hawii, USA. However, as coronavirus restrictions, it is turned into the fully online mode, with virtual session rooms and facilities for online presentation of talks, so that the attendees had an experience very close to the real conference.
Group Photo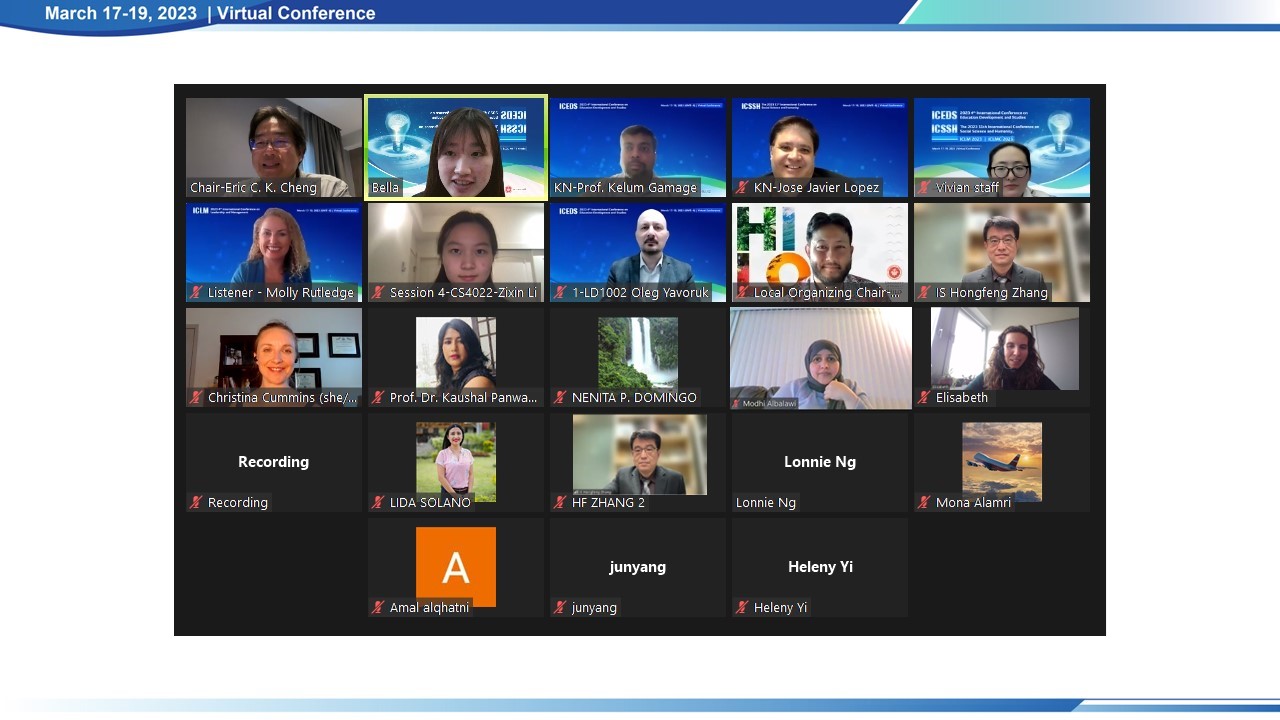 In the beginning, Assoc. Prof. Todd Inouye, representing the University of Hawaii at Hilo, USA delivered a captivating opening address. He emphasized the significance of collaborative endeavors in advancing knowledge and the vital role that this international symposium plays in fostering intellectual exchange.

The conference featured four keynote and three invited speakers, each contributing their unique perspectives to the discourse. Prof. Matthew Ohland, an IEEE Fellow from Purdue University, USA, shared his profound insights, setting the stage for the enriching discussions that followed. Prof. Joy Kutaka-Kennedy of National University, USA, brought her wealth of expertise to the forefront, offering thought-provoking ideas that resonated with the audience. Prof. Kelum Gamage of the University of Glasgow, UK shared The Rise of Cheating in Assessments in the Post-Covid World, and Assoc. Prof. Eric C.K. Cheng of The Education University of Hong Kong, China talked about Leading Digitalization and Eradicating Teachers' Barriers to Incorporating Artificial Intelligence in K12 Education.
The invited speakers: Prof. Kwang Sik Chung from Korea National Open University, Korea; Assoc. Prof. Yohannes Kurniawan from BINUS University, Indonesia; and Assoc. Prof. Hongfeng Zhang from Macao Polytechnic University, China, each brought their unique perspectives to the table.

The conference was organized into five enriching technical sessions, each chaired by a prominent and accomplished researcher in the field. Each parallel session went through smoothly and a "Best Presentation" award was issued at the end of the sub-conference, with the support of session chairs.
Best Paper Awards
LD1002
Presenter: Oleg Yavoruk
Independent Scholar, Russia
LD1024
Presenter: Donna L Schnorr
California State University San Bernardino, USA
Indexed by Ei Compedex
Indexed by Scopus