France Visa Application Requirements
---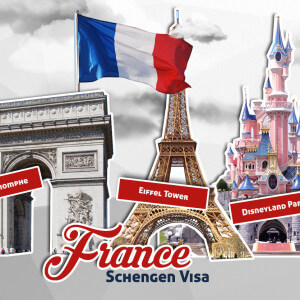 Depending on the purpose of your travel to France, there are different types of visas that will apply to the occasion. Whether you are planning to go on a visit, study or work and reside in France permanently, you will have to apply for a different France Schengen Visa, accordingly.
You can apply for the France Visa since 1997 when France, as a Member of the European Union, also became a member state of the Schengen Area.
Who does and who don't need a Visa to enter France?
Not to every foreigner and not for every territory of France applies the same visa policy. As such, visa exemptions are greatly influenced by dissimilar factors, where the major ones are: foreigner's nationality, the territory of the France that the applicant seeks to visit, foreigner's residence status in Schengen Area or specifically in France, the purpose of visit, as well as duration of stay.
All other foreign nationals of the excluded countries from the above list, CANNOT enter or stay in French Overseas Départments or Regions WITHOUT undergoing the French Visa Application procedure and getting the appropriate French Visa.
General required documents for a France Visa Application:
Download the France Visa Application form, fill it completely and with sincerity. You can also fill the France Schengen Visa application form electronically and then print a hard-copy.

2 photos must be attached; the photo should be of passport format – a recent whole-face capture with a light background. Learn more about photo requirements and specifications for a French Visa.

Your passport and copies of your previous visas – valid for at least 3 months beyond return date – are required. Your passport must have at least two blank pages.

A copy of your return-ticket reservation. It is not recommended to purchase the ticket before obtaining the visa – if not otherwise required

Travel visa insurance confirmation of minimum 30,000 € coverage within France and the entire Schengen area. In order to apply for a French visa, the French embassy/consulate requires a Schengen travel insurance policy that is valid in all Schengen countries. French embassy/consulate also requires the confirmation of coverage letter as the proof of coverage to be submitted along with other requested documents and France visa application.

A cover letter stating the purpose of a visit to France and itinerary

Flight ticket reservations. Find out how to get a flight reservation for France Visa Application without paying the actual flight.

Proof of accommodation for your entire stay in France.

Proof of civil status (marriage certificate, birth certificate of children, death certificate of spouse, ration card if applicable)

Means of subsistence – Proof of sufficient financial means for the period of stay. As the European Commission specifies, any foreigner seeking to enter France, since 19 June 2014, when applying for France Visa must be able attesting to the France Embassy or Consulate possessing the daily money amount of 120€ if holding no proof of prepaid accommodation. If the applicant has a prepaid hotel, then this amount reduces to 65€/daily for the period of covered hotel accommodation, while the rest is 120€. Also, in case the applicant proofs cheaper forms of accommodation the amount decreases to 32.25€/ day.
For most attendees, it is easier to apply for a Tourist ("L") visa; an invitation letter is NOT required for obtaining a Tourist visa.
For more information, please check with local Chinese Embassy in your country or visit: https://france-visas.gouv.fr/en_US/web/france-visas
Alternatively, participants may ask their travel agents to arrange their travel to France and obtain a tourist visa irrespective of whether or not they have registered with the Conference Secretariat.